Main Menu
---
---
· Top Categories ·
· Browse a Category ·
· Hot Site To Watch ·
Fresh SX
Category:
DVD Porn
Read Review
· Top Sellers ·
· Top Videos ·
· Top Picture Galleries ·
Bareback That Hole
No storylines...just spit and shove it in at Bareback That Hole. As the site asks, why waste time?

Main Category: Hardcore Sex
Sub Categories: Group Sex
Site type: Network (Bareback Access)
Launched: February 2007
Reviewed: October 18, 2010
Facts Updated: September 14, 2011

Full Review of Bareback That Hole by
Track
Oct 18, 2010
| | |
| --- | --- |
| My Score: 70.0 | |
First Impression

With a name like BareBackThatHole.com you can pretty much imagine that any sort of subtlety or finesse has been completely thrown out of the window, and that what you are gonna get is some cock sucking, ass fucking, cum dumping content. The motto of the site is, " No Chintz, No Story Lines, Just Spit and Shove it in, Why waste Time?" and I have to say that they stay pretty true to that sentiment. (Although I was pretty sure that chintz was a type of fabric and I looked it up and I was right so I'm not really sure where that fits into the BareBackThatHole.com design, but I digress.) This is not a site for love making, connections, or dialogue so if you like a little more lead up (or condoms) to your porn, then this ain't the site for you. The action is all-bare and that is the sites selling point. Unfortunately that is its ONLY selling point, so don't expect great quality either.

Navigation

The site is fairly well organized with big tabs that direct you to different areas of interest. You can search the site by fetish, key words, or models name and you are directed to a page with all of the available videos. There are brief descriptions of the scenes and the models performing to better guide you in your search. There aren't a whole bunch of ads or any additional materials cluttering up the page, so what you see is what you are getting. Newer materials are added to the home page, and members can rank each scene so you can find out what others enjoyed. There are also revolving thumbnails that give you a quick look at the scene itself, which I wish other sites would start doing as well. It's certainly not the most sophisticated site, but it does seem to get the job done well.

Content

The there are over 200 videos divided up into cum play, hardcore and felching categories, and new material is added about once a week. The videos are about 20-25 minutes long and as stated before there is zero buildup so when the scenes start they are naked with cock in mouth. The videos are easily downloaded or streamed from the site in a bunch of different size options, and although the picture and sound quality aren't bad, the locales get very monotonous and repetitive. They want to make this site a little raunchier, and I guess it is in a way, but just being bareback and wearing a cock ring doesn't exactly qualify the site to be fetish. Each scene also comes with a photo gallery, which is basically just a still documentation of the action, and the pictures aren't really anything to write home about. I mean they are acceptable, but certainly not anything that you can't find on at least 100 other low budget sites. There is very little editing which is a nice touch so you get to see exactly what is going on with the men, and the camera work is acceptable although certainly not stellar. I know they are trying to be really raw without having any kind of build up, and I can see the thought process behind that, but to pay for a site you want to be able to watch at least something original that you can't find on xtube.com. In other words, I think sometimes the theme or the set ups are what people respond to and keep them coming back for more. With this site you just get generic sex that happens to be bareback.

Guys and Sex

Oh gosh, I hate talking about models on bareback sites because they all seem to be exactly the same. I guess there is nothing wrong with barebacking per say, I mean some people love the fetish, but the participants always seem to be prepubescent Euro Twinks or over the hill daddy types who have done too many steroids for their own good and are now left with fucked up features and distorted jaw lines. Not all of the men on BareBackThatHole.com are ugly. In fact, some are fucking hot as hell and know how to put on a great show, but there are many others who should maybe consider having sex in private instead of on film. The men, however, do a great job at getting into the action, but with limited sets and generic choreography, there isn't much they can do to save the site from Boresville.

Value

It's only about a dollar a month to join if you sign up for a recurring charge, which is pretty standard for this type of site. You also do have the ability to just pay a little more for a one-month membership in case you just want to check it out. With your membership you get access to all of the photos and videos, additional bonus videos or cum play, wallpapers of some of the sites men, and access to three other additional sites. There is also a place for VODs but that feature hasn't been added yet.

Overall Impression

If all you care about is that the men are bareback and you are willing to sacrifice quality, looks, and production value to get it, then this site works. If not, then I would suggest other places to spend your money. I hate whining, and the site isn't that bad, but just because it is bareback doesn't mean it is different. On the positive side, the site itself is very well organized and easy to use and there is a lot of material to be experienced.

Bottom Line

This site is about barebacking. The quality isn't amazing, and the models aren't great, but if you like barebacking, then by all means have a look.
Bareback That Hole Site Details:
What you get for your money
Update frequency: Daily Network Updates

Exclusivity: 100%

Number of videos: 250 (avg. 20 minutes)

Maximum Video Resolution: 1280x720

Videos have watermarks

Download limit: Yes

Video DRM: None

Video Formats: WM / QT / Flash / HD / POP / IPod

Video Type: Downloadable / Streaming

Number of galleries: 200 (avg. 50 pics per gallery)

Pictures have watermarks

Only one picture size

Slideshows

Offers zip files
Bareback That Hole Free Videos
167 videos
Bareback That Hole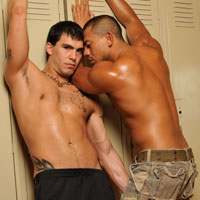 70.0
Official Score


1 review
· Score Breakdown ·
| | |
| --- | --- |
| Videos | 13.5 / 20 |
| Photos | 6.0 / 10 |
| Guys | 8.5 / 15 |
| Site Volume | 8.0 / 10 |
| Updates | 8.0 / 10 |
| Exclusivity | 10.0 / 10 |
| Navigation | 7.0 / 10 |
| Spankability | 6.0 / 10 |
| Extras | 3.0 / 5 |
Wonder how we determine the individual score for each criteria? Click here to see our criteria clarifier.
· Pricing ·
Monthly
:
$29.95
(Recurring)
Trial
:
$5.95
(3 days)
(recurrs at 29.95)
3 month
:
$59.95
(Recurring)
6 month
:
$89.95
(Non-recurring)
· Safety Level ·
A majority or all scenes are bareback sex
Click here for details.
· Company ·
· Top Model Searches ·
Go to: Models / Pornstars