Main Menu
---
---
· Top Categories ·
· Browse a Category ·
· Hot Site To Watch ·
Fresh SX
Category:
DVD Porn
Read Review
· Top Sellers ·
· Top Videos ·
· Top Picture Galleries ·
Full Review of Breed Me Raw by
Track
Nov 10, 2010
| | |
| --- | --- |
| My Score: 70.5 | |
First Impression

I will be the first to admit that I of course don't know every porn performer out there, but typically the ones who are big enough to have their own websites have at one time or another been somewhere on my radar. I have, however, never heard of the creator of BreedMeRaw.com, Tyler Reed, so I was a bit skeptical about how a bareback site based on an unknown porn performer would rank in the quality category. I was somewhat surprised to find that the site itself isn't really half bad. There are a ton of videos and photos to appreciate and the site is well organized and user friendly. The men of BreedMeRaw.com are typical bareback fare, which isn't always that appetizing, if you know what I mean, but Tyler has at least put some effort into making the site as hot and sexy as an amateurish site can be.

Navigation

When you log on you are greeted with a welcoming message from the sites name sake, and an introduction to some of the sites most insatiable models. Now from time to time everyone makes some spelling errors, including myself, but this site is kind of a grammatical nightmare. Not that grammar and spelling is what you are looking for in a raw gay sex site, but it does let you know that this isn't going to be a high quality production. The site allows you to search by model name, key words, or dates, and each scene is easy to download and stream just by clicking some buttons. The site is clean and well organized allowing you to move effortlessly through the site without a lot of ads cluttering up the pages. The rotating thumbnails give a preview of what to look forward to in each scene and a brief description of the men and the sex will guide you to your perfect choice. The site has been around for a few years, but they have updated and kept things current, which certainly makes things more enjoyable for the viewer.

Content

BreedMeRaw.com houses about 85 videos so far with new updates added each week. Most of the videos come in two sizes and qualities and can be downloaded or streamed directly from the site. You can save the videos in several different formats including for your iPod and the site is fully Mac compatible. The video and sound quality has gotten a little better since the site was started, but I have to say that the videographer pretty much sucks. The lighting is too low or too high in most scenes, and often times the action is completely out of frame. I get the fact that you want this to have an amateur feel to it, but even amateurs have a tripod that they use once in a while. Shaky images and out of focused shots don't make the scenes more enjoyable simply because they are more amateurish. They actually make them harder to watch. Each scene comes with a photo gallery that also could use some major overhauling. The shots are pretty standard and document the scene, but there is nothing that makes you wanna keep looking at the them. Bareback gay porn often gets ripped a part for being bottom of the barrel, but when the quality and effort sucks then you are fulfilling your own stereotype. A key light and a decent camera never hurt anyone, and if the sex is good then it doesn't matter if the production value isn't the most realistic thing you've ever experienced. The site also has a blog, which hasn't been updated in a while, and a place for VODs, which says they are coming soon. Little details like these make a site worthwhile, and they certainly have the content, so why not step up the quality?

Guys and Sex

As I stated before, comparing bareback performers with condom performers is like comparing apples and oranges. For bareback performers, BreedMeRaw.com does a good job at sprinkling some genuinely hot and horny guys among the guys with the typical bareback aesthetic. Men like the sexually charged muscle bound Dominick Rider, tattooed top Travis Turner, sexy Daddy Phoenix Grey and even Travis Reed himself, are all talented performers who look amazing on film and know how to put on a great fuck show. The action is pretty standard with some cum play at the end of the scenes, but the men are verbal and seem to love what they are doing. There is a lot of amazing rimming, sucking and hard ass fucking going on in this site, and it is unfortunate that the camera man doesn't have the same passion for the sex because the site would be so much better if the videographer made some more effort.

Value

BreedMeRaw.com costs about as much as most other porn sites on the web at $29.95 a month, and for that you get access to all of the videos and photos, the outdated blog, the still under construction VOD link and a few bonus videos of Tyler in action. In other words, nothing too spectacular. You do also get access to three other raw websites in the network, which are pretty similar in style and content. Is it worth it? Ehhh some of the action is good and the guys really want to put on a good show, but the production value really hinders the sites spankibility.

Overall Impression

I know that amateur sites want to seem as real as possible, but you have to be able to enjoy the sex or all of the efforts are undermined. Bareback porn is typically cheaper produced and features less desirable models, and because of that, the quality seems to suffer. The site is well designed, Tyler is pretty hot as are some of his regular stable of men, but there isn't that extra special something that totally blows your mind and makes you wanna pull your cock out and spew out a hot thick load. BreedMeRaw.com makes a nice effort, but it stills falls short.

Bottom Line

This is a typical bareback sex site featuring some decent men having decent sex with lower quality production value.
Breed Me Raw Site Details:
What you get for your money
Update frequency: Daily Network Updates

Exclusivity: 100%

Number of videos: 110 (avg. 25 minutes)

Maximum Video Resolution: 1280x720

Videos have watermarks

Download limit: Yes

Video DRM: None

Video Formats: WM / QT / Flash / HD / POP / IPod

Video Type: Downloadable / Streaming

Number of galleries: 70 (avg. 50 pics per gallery)

Pictures have watermarks

Only one picture size

Slideshows

Offers zip files
Breed Me Raw Free Videos
89 videos
Breed Me Raw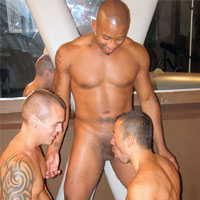 Breed Me Raw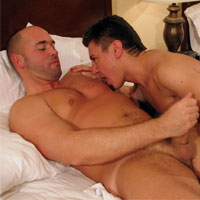 Breed Me Raw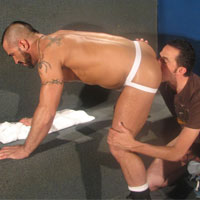 Breed Me Raw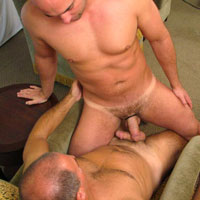 Breed Me Raw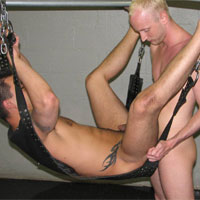 70.5
Official Score


1 review
· Score Breakdown ·
| | |
| --- | --- |
| Videos | 14.0 / 20 |
| Photos | 7.0 / 10 |
| Guys | 9.5 / 15 |
| Site Volume | 6.0 / 10 |
| Updates | 7.0 / 10 |
| Exclusivity | 10.0 / 10 |
| Navigation | 8.0 / 10 |
| Spankability | 7.0 / 10 |
| Extras | 2.0 / 5 |
Wonder how we determine the individual score for each criteria? Click here to see our criteria clarifier.
· Pricing ·
Monthly
:
$29.95
(Recurring)
Trial
:
$5.95
(3 days)
(recurrs at 29.95)
3 month
:
$59.95
(Recurring)
6 month
:
$89.95
(Non-recurring)
· Safety Level ·
A majority or all scenes are bareback sex
Click here for details.
· Company ·
· Top Model Searches ·
Go to: Models / Pornstars