Main Menu
---
---
· Top Categories ·
· Browse a Category ·
· Hot Site To Watch ·
Fresh SX
Category:
DVD Porn
Read Review
· Top Sellers ·
· Top Videos ·
· Top Picture Galleries ·
World Of Men
Join Collin O'Neal as he travels the globe, searching for the hottest gay men to have sex with.

Main Category: Euro-Boys
Sub Categories: Hardcore Sex, Latin Sex
Site type: Network (Alpha Male Fuckers)
Launched: October 2009
Reviewed: October 15, 2010
Facts Updated: December 21, 2011

Full Review of World Of Men by
Track
Oct 15, 2010
| | |
| --- | --- |
| My Score: 77.0 | |
First Impression

Collin O'Neal was one of the great discoveries of Hot House Studios that instantly made a splash with his hairy body, his fat cock and his hungry appetite for sex. After a few years of taking the porn world by storm and gathering some adoring fans, the star left the stable and decided to make it on his own. WorldOfMen.com is a site that follows Collin on his quest around the world to discover some insatiable guys who want to have sex in front of the camera. From the out set the sites look well designed and has some great images that make you want to see more. Although the actual content isn't stellar, it certainly isn't the worst I have ever seen either (although a new videographer wouldn't hurt). If you are a fan of Collin's, or if you like guys that have his aesthetic, then this site will absolutely make your cock perk up and take notice.

Navigation

From the opening page you can tell that this site has a lot of potential. There are easy to use tabs that direct you to the points of the site you want to see, and although there seems to be a lot going on, the site is fairly easy to navigate and helps you get to the action quickly. The newest videos are listed on the homepage as well as the most viewed, and rolling icons let you know what you are in store for from the scene. There are also nice descriptions of the models and the action, and key words help you to make your selection. You can browse by country or search by model name, which is a nice touch, and once you find your video, you can easily click on and download or stream from the site. You can even rate each video and model, although I did find it kind of funny that most of the guys have about 60% ratings while Collin has 100%, but I guess when you run your own site you can do whatever you want. WorldofMen.com is well organized and has a modern design that will draw you in and have you wanting more.

Content

Although I would definitely consider Collin to be a "professional", this is still very much an amateur site and all of the mistakes become very clear in the videos and photo galleries. The guy travels all over the world apparently and yet all of the scenes take place in boring showers or in sparse hotel rooms. I mean it's nice to travel with your job, but why couldn't you just film down at the Holiday Inn and save a buck to buy a better camera, and then the audience would lower their expectations of seeing some nice locations. Another problem is that the videographer should maybe consider smoking weed after he films the scenes. The camera is always shaky, and often times the great shots aren't captured as they should be. I love homemade porn as much as the next guy, but at least keep the action in the middle of the screen. There are over 80 videos so far with new updates about once a week, but I am very disappointed to say that once you have seen one of the scenes, you've kinda seen them all. There is nothing original or spectacular about the content, and with bad videography there isn't too much to get excited about. The site is completely Mac compatible which is a huge plus, and the downloads are easily accessible. Each scene also comes with a photo gallery, which is pretty well shot and certainly hot to look at, and you can download separate images or the entire gallery to save on your computer. Again though, this is very amateurish, and a little more attention to quality would make this site much more enjoyable.

Guys and Sex

When it comes to the type of guys at WorldOfMen.com it is definitely all over the map. Most of the men are a little older and beefier, but they do come in all shapes, colors and sizes. The scenes with Collin are a little lazy compared to his earlier work, but most of the other guys seem to be having a great time as they perform. The action is a kinda cookie cutter and doesn't make you think "what's gonna happen next, " but again if you have the same taste in men that Collin does, then you will be pleasantly satisfied. These aren't the ripped cover boys that you see on some of the top sites, and many of them have "butter face", but the sex is good and the guys know how to work their assets.

Value

At about a dollar a day per month with recurring billing you get access to all of the images and videos on this site as well as three other fully loaded sites within the network. There is an online DVD store where you can purchase videos at a discounted price, and a Blog, which seems to primarily focus on Collins weight loss program or his sexual antics in different cities. There are also some behind the scenes bonus videos of Collin on his trips, which makes you wonder why he didn't take advantage of some of the amazing locales to shoot his videos. You are getting a lot for your buck, and if Collin melts your butter you will be in hog heaven.

Overall Impression

I've never been a huge fan of sites dedicated to one model because the action can get a little stale, and if you aren't into that one guy then you are shit-out-o-luck, but WorldofMen.com does a good job at focusing on many different models and not just making it all about Collin. I wish the scenes were shot in better locations, and I wish that the videographer knew what he was filming, but for the most part this site is well organized, easy to use and has a butt load of material to appreciate.

Bottom Line

Collin is hot and there is some definite potential here, but I'm not sure they have found that extra something yet.
World Of Men Site Details:
What you get for your money
Update frequency: Daily Network Updates

Exclusivity: 100%

Number of videos: 120 (avg. 30 minutes)

Maximum Video Resolution: 1280x720

Videos have watermarks

Download limit: None

Video DRM: Yes

Video Formats: WM / QT / Flash / HD / POP / IPod

Video Type: Downloadable / Streaming

Number of galleries: 170 (avg. 200 pics per gallery)

Pictures have watermarks

Only one picture size

No slideshows

Offers zip files
World Of Men Free Videos
53 videos
World Of Men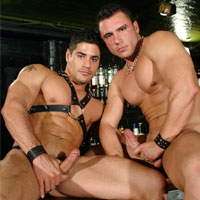 World Of Men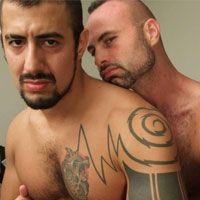 World Of Men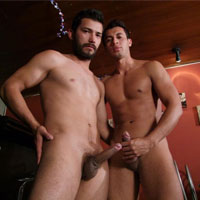 World Of Men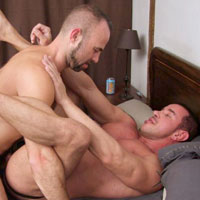 77.0
Official Score


1 review
· Score Breakdown ·
| | |
| --- | --- |
| Videos | 15.0 / 20 |
| Photos | 7.0 / 10 |
| Guys | 11.0 / 15 |
| Site Volume | 8.0 / 10 |
| Updates | 7.0 / 10 |
| Exclusivity | 10.0 / 10 |
| Navigation | 8.0 / 10 |
| Spankability | 7.0 / 10 |
| Extras | 4.0 / 5 |
Wonder how we determine the individual score for each criteria? Click here to see our criteria clarifier.
· Pricing ·
Monthly
:
$29.95
(Recurring)
Trial
:
$5.95
(3 days)
(recurrs at 29.95)
3 month
:
$59.95
(Recurring)
6 month
:
$89.95
(Non-recurring)
· Safety Level ·
Condoms used in all or most scenes
Click here for details.
· Company ·
· Top Model Searches ·
Go to: Models / Pornstars