Main Menu
---
---
· Top Categories ·
· Browse a Category ·
· Hot Site To Watch ·
Fresh SX
Category:
DVD Porn
Read Review
· Top Sellers ·
· Top Videos ·
· Top Picture Galleries ·
Full Review of Bareback Access by
Ken
Jul 28, 2010
| | |
| --- | --- |
| My Score: 72.0 | |
First Impression

The name pretty much says it all. If you log on to BarebackAccess.com you get access to six bareback sites: SweetandRaw.com, FeedThatHole.com, BreedMeRaw.com, BarebackThatHole.com, BareAdventures.com, and FeltchThatHole.com. Don't be surprised if you can't tell the difference, as they pretty much look the same. SweetandRaw.com is full of twinks, and, in general twinks rule the show here. The site is confusing, too, as it first appears as if you're just checking out the latest clips, before realizing you're hitting links to take you to different sites. If the guys you see on the homepage don't float your boat, don't go any further; it's the best you'll get. I don't know if it's the job itself, but bareback sites usually don't employ the hotter dudes in the business. Perhaps, like Leo Giamani, once a scout finds them, they get hired for a bit more cash on a condom site.

Navigation

Once you get used to the layout, it's less confusing—although this site bumps you off like a slippery ass. I had to re-enter my password on several occasions, as it kept insisting I wasn't a member once I'd been on for about five minutes. Each clip can be downloaded or streamed, and the site is compatible with Firefox and Internet Explorer. Since every site is slightly different, there are different navigation tools, but mostly you either watch the latest updates or hit on models, then go to their videos. Some of them have edited cum shot clips (a clever feature), and the wallpaper is different for each. All of them have photographs, and there are blogs from the members. Every time I went to the Behind the Scenes videos or wallpaper, the site bounced me back and asked me to join. They looked promising, however.

Content

The photos are pretty amateurish, to go along with the feel of the site. The images are not that clear, but there are a lot of them, action and posed. Some can be downloaded, others cannot. The videos, too, have a routine feel, with so-so sound and lighting. The clips are not in high definition, but you can certainly see everything that's going on. Once you hit a clip you like, the sites pick a streaming option for you, then offers you variations. It also allows you to zoom in. Also, click on the photo and a short slideshow takes off—cool! Next to the videos are a summary of what's going to happen in the video; a feature that I've never quite understood. It's one thing to say which guy gets fucked, but I'd rather watch myself than to know who's gonna rim who first, and which guy sucks cock first. In addition to quick time and WMV, you can download onto your iPod or iPhone. These guys have the bases covered. They all update about once a week, and the videos are a good length, approximately 20 minutes. To the extent that this is an all-access site, it's exclusive, meaning these clips are just for downloading, and aren't for sale on DVD.

Guys and Sex

The guys on all these sites look either very desperate for money, or just desperate for sex. There was one kind of hot orgy clip on Bare Access, but most people who tune in are there for the unprotected sex, and a surprisingly number of large cocks on very skinny men. A lot of the guys look to be in their teens, but a couple of them are around the 30 mark. They're not covered with tattoos or excess hair, and there isn't a lot of excess piercing. It would be nice if, during their breaks, a personal trainer was hired to beef them up a bit. Their sex is frantic, sometimes forced, and raunchy. Hairy assholes are big here, as is razor burn and pimples. These are guys you find at four a.m. at the bar, or on your seedier piers, or in the steam room.

Value

If you're into this type of porn you're getting a good value, because of all the different sites. It's important to know that Greek Gods are nowhere to be found on any of the sites, in case you think it's just a matter of scouting around. There's live cam for an extra fee, and blogs, and, as I said before, the cum shop clips and the behind the scenes stuff. You also get extensive wallpaper. What would make it more enticing is if each site had a vastly different feel; one had hairy men, one had ripped men, etc. As it is, you could almost make this one big site and no one would really know the difference.

Overall Impression

BarebackAccess.com is not a particularly exciting site, and I don't recommend it unless you're Jonesing for raw sex. There aren't any guys who are all that memorable, and the scenes, shot in bland rooms with bland lighting, are nothing you'd ever want to keep. On the plus side, you get access to six sites—that's a lot of spit.

Bottom Line

BarebackAccess.com is a collection of six bareback sites for the price of one. The clips are amateurish, and they guys are average-looking. For serious bareback lovers only.
Bareback Access Site Details:
What you get for your money
Update frequency: Daily Network Updates

Exclusivity: 100%

Number of videos: 800 (avg. 20 minutes)

Maximum Video Resolution: 1280x720

Videos have watermarks

Download limit: Yes

Video DRM: None

Video Formats: WM / QT / Flash / HD / POP / IPod

Video Type: Downloadable / Streaming

Number of galleries: 900 (avg. 50 pics per gallery)

Pictures have watermarks

Only one picture size

Slideshows

Offers zip files
Bareback Access Free Videos
40 videos
Bareback Access
Bareback Access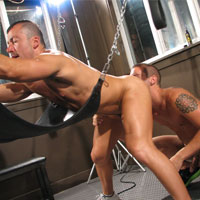 72.0
Official Score


1 review
· Score Breakdown ·
| | |
| --- | --- |
| Videos | 13.0 / 20 |
| Photos | 7.0 / 10 |
| Guys | 8.0 / 15 |
| Site Volume | 10.0 / 10 |
| Updates | 8.0 / 10 |
| Exclusivity | 10.0 / 10 |
| Navigation | 6.0 / 10 |
| Spankability | 6.0 / 10 |
| Extras | 4.0 / 5 |
Wonder how we determine the individual score for each criteria? Click here to see our criteria clarifier.
· Pricing ·
Monthly
:
$29.95
(Recurring)
3 month
:
$59.95
(Recurring)
6 month
:
$89.95
(Non-recurring)
Trial
:
$5.95
(3 days)
(recurrs at 29.95)
· Safety Level ·
A majority or all scenes are bareback sex
Click here for details.
· Company ·
· Top Model Searches ·
Go to: Models / Pornstars